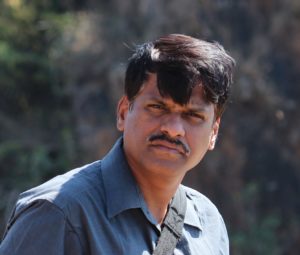 I am a professor of Entomology in the Dept. of Entomology, College of Agriculture, University of Agricultural Sciences, Raichur, Karnataka, INDIA. My research interests are insect ecology with special reference to migration and reproductive biology. I am looking at the factors which influence the long distance migration in noctuid moths, especially pests of agriculture.
My other area of research is development of ICT tools to enhance the extension services in crop health management. Me and my team has been involved in developing a novel ICT application called e-SAP (Electronic Solutions against Agricultural Pests) which empowers the extension personnel to diagnose and quantify the problems related to insects, diseases, weeds and nutritional disorders in crops and provide solutions on real time.


Work Experience
Education
Fellowship
Work Experience
Professor, University of Agriculture Sciences (UAS), Raichur - 19.08.2012 till date.
Associate Professor, UAS, Dharwad/Raichur - 19.08.2006 to 19.08.2012
Assistant Professor of Agricultural Entomology, UAS, Dharwad AC, Raichur - 31.07.1998 to 19.08.2006.
Assistant Plant Protection Splt. (Entomology), UAS, Dharwad EEU, Raichur - 19.08.1997 to 31.07.1998.
Education
Ph. D in Agricultural Entomology from  University of Agricultural Sciences Bangalore,  Biocontrol of white grubs and caterpillars using EPN (Specialization) with CGPA 9.41/10.
M.Sc (Agri.)  from  University of Agricultural Sciences Bangalore, Agril. Entomology (Specialization) with CGPA 4.0/4.0
B.Sc (Agri.) from University of Agricultural Sciences Bangalore, with CGPA 3.65/4.0
Fellowship
Recipient of CSIR Senior Research Fellowship for the Ph. D. Programme
Recipient of ICAR Junior research Fellowship for the M.Sc. (Agri.) Programme
RESEARCH ACCOMPLISHMENTS
Designed and developed e-SAP which enables identification of pest/diseases and nutritional disorders of major agricultural and horticultural crops right in the farmers' field and provide advisory.
Access to survey the identified problem and send the information through GPRS/3G technology.
Developed web based GIS application which pool and analyses the survey reports sent through the hand-held device and provide decision support system on real time.
Developed an effective, eco-friendly and economical IPM strategy for H. armigera in chickpea by integrating H. indica with other biopesticides.
Successful field control is achieved in Brinjal root weevil, Myllocerus discolor, Grape flea beetle, Sceledonta strigicollis and chickpea pod borer, Helicoverpa armigera.
Morphological, bio-chemical and bio-efficacy studies of Photrhabdus luminescens,  a symbiotic bacterium of H. indica (RCR) were carried out both under laboratory and shade house condition.
Evaluated different liquid formulations of P. luminescens against sap feeders of cotton, brinjal and bhendi under field condition.
Efforts are underway to develop P.luminescens as commercial product against spa feeders like mites, mealy bug and aphids.
ACADEMIC HONOURS / RECOGNITIONS
Recipient of ICAR Jawaharlal Nehru National award for Ph. D for the year 2000.
District young scientist award for outstanding contribution in the field of Agricultural entomology.
Recipient of University of Agricultural Sciences Gold medal for having completing the M.Sc.(Agri.) in Agril. Entomology 'with Distinction'
Recipient of team award of eINDIA2010 for the best project on "Re-designing agriculture education-research-extension continuum" in e-agriculture category. The award was received from Miss. Agatha Sangama, Hon'ble MOS for Rural Development, Govt. of India at National eINDIA2010 conference at Hyderabad.
Recipient of "e-Agriculture ICT initiative of the year 2014" award at national level instituted by Associated Chambers of Commerce and Industries of India (ASSOCHAM) during March 2014 at New Delhi.
Recipient of "BEST TEACHER" award for the year 2014 instituted by ICAR during 4th Convocation of University of Agricultural Sciences, Raichur.
PUBLICATIONS
Total number of Publications : 93
Scientific papers in International journal : 07
Scientific papers in refereed journals : 37
Research notes in refereed journals: 21
Books : 01
Book chapter : 01
Articles in popular magazines and news papers : 17
Leaf folders : 09
LIST OF PUBLICATIONS IN LAST 5 YEARS
BOOKS:
A. and B.V. Patil. 2010. Managing chickpea pod borer with entomopathogenic nematodes. Lambert Academic Publishing AG & Co, KGDudweiler Landstr.99, 66123 Saarbrucken. Germany. ISBN: 978-3-8383-3897-2.
BOOK CHAPTERS:
A. Keeta Nirvhanealli jantu hulugala patra haagu avugala utpadana tantrikate. In :Jaivika parikaragaka utpadana tantragnana. Published by UAS, Raichur. 2012.
Scientific papers in refereed journals in last five years:
Shankar Murthy N., Nagaraj, S. K and Prabhuraj. A. 2015. Agriculturally important Pyraloidea (Lepidoptera) of India: key to subfamilies, current status and preliminary checklist. Entomon, 40 (1): 23-68. (NAAS: ).
Manjushree Hiremath, N. M. Shakuntala, S. N. Vasudevan, Md. Ibrahim, A. Prabhuraj and Sangeeta, 2015, Characterization of paddy genotypes through image analyser and electrophoretic technique of total soluble seed proteins. The Ecoscan, 9 (1&2): 393-396. (NAAS: 5.06).
Uma, G. P., Prabhuraj, A. and Nandini, 2015, Pathogenicity of a symbiotic bacterium, Photorhabdus luminescens cells and its secretion against Tetranychus macferlanei (Tetranychidae:Acari). Green Farming Int. J., 6(2): 377-380. (NAAS rating: 4.79).
Abdul Khadar B. Prabhuraj A. Srinivasa Rao M. Sreenivas A.G. and Naganagoud A. 2014. Influence of elevated CO2 associated with chickpea on growth performance of gram caterpillar, Helicoverpa armigera (HÜB.). Applied Ecology and Environmental Research. 12 (2): 345-353. (NAAS: 6.5)
Basavaraj S. Kalmat, A. Prabhuraj, P.K. Dhakephalkar, Supreeth Hegde and R.S. Giraddi, 2014. Characterization of Lysinibacillus sphaericus C3-41 strain isolated from northern Karnataka, India that is toxic to mosquito larvae. J. Bio. Con., 28(1): 24-30. (NAAS: 3.96)
Pragati Meti, A.G. Sreenivas, K. Prakash, M. L. Jat, Venkateshalu, A. Prabhuraj and N. Manjunath. 2014. Management of shoot fly and stem borer in maize. J. Exp. Zool. India. Vol. 17 (1): 337-340. (NASS rating: 4.63).
Vishruthkumar K.S., Tamilvendan, K., Mahadevaswamy and Prabhuraj. A. 2013. Biochemical diversity of Photorhabdus luminiscens isolated from Heterorhabditis indica collected from different agro-climatic regions of Karnataka. Mysore Journal of Agricultural Sciences, 47 (3): 596-602 (NAAS: 2.91).
Ranjith M. T. and A. Prabhuraj. A. 2013. Incidence of cotton bollworm, Helicoverpa armigera (Hubner), on field crops. Indian journal of Entomology. 75 (3): 181-184 (NAAS rating: 3.8).
James R. Bell., Prabhuraj A., Ka-Sing Lim. And Jason Chapman, 2013. Predicting insect migration density and speed in the day time convective boundary layer. PLOS One. 8 (1); e54202. (Impact factor: 7.7)
 Y. B. Srinivasa and A. Prabhuraj. 2012. Bt Cotton and bollworms: clearing a few clouds. Current Science. 102 (11): 1504-1506. (Impact factor: 7.3)
A. Prabhuraj, Y. B. Srinivasa. And Muralimohan. 2011. Survival of Helicoverpa armigera in Bt cotton hybrids- Can we buy the interpretations. Paper presented in the Vth World Cotton Research Conference held at Mumbai India from 7-11th Nov. 2011.
Prabhuraj Aralimarad, Andy M. Reynolds, Ka S. Lim, Don R. Reynolds, Jason W. Chapman. 2011. Flight altitude selection increases orientation performance in high-flying nocturnal insect migrants. Animal Behaviour 82 (2011). 1221-1225. (IP: 9.07)
V.C. Patil, L. B. Hugar, P. Priya, A. Prabhuraj, V. Balaji. And N.T. Yaduraju. 2011. Information and Communication Technologies for Agriculture Knowldege Management in India. World Applied Sciences Journal. 14 (5): 794-802. (IP: 7.5)
Ranjith, M. T. A. Prabhuraj. and Y. B. Sreenivasa. 2010. Survival and reproduction of natural populations of Helicoverpa armigera on Bt-cotton hybrids in Raichur, India. Current Science. 99 (11): 1602-1606. (IP: 7.7)
G. P. Uma, A. Prabhuraj. And M. B. Patil . 2010. Antibiotic and antibacterial activity of symbiotic bacterium, Photorhabdus luminescens. Journal of Biological Control. 24 (2): 168-172.
G. P. Uma, A. Prabhuraj. And Vimala. 2010. Bio-efficacy of  Photorhabdus luminescens, a symbiotic bacterium against Thrips palmi Karny (Thripidae: Thysanoptera),. Journal of Biopesticides. 3 (2): 458-462.
Uma G. P. Prabhuraj. A and Vimala. 2010. Effect of the entomopathogenic bacterium Photorhabdus luminescens to Aphis gossypii Glover. 4.
B. V. Patil, S.G. Hanchinal and A. Prabhuraj, 2010. Biorational and ecofriendly approaches for the management of invasive alien and emerging insect pests. National Conference on "Invasive Alien insects and emerging pests threatening agriculture, horticulture and forest ecosystems". 20-21 January, 2010 at UAS, Dharwad. 64-75.