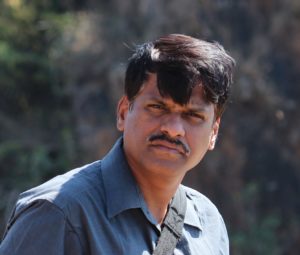 I am a professor of Entomology in the Dept. of Entomology, College of Agriculture, University of Agricultural Sciences, Raichur, Karnataka, INDIA. My research interests are insect ecology with special reference to migration and reproductive biology. I am looking at the factors which influence the long distance migration in noctuid moths, especially pests of agriculture.
My other area of research is development of ICT tools to enhance the extension services in crop health management. Me and my team has been involved in developing a novel ICT application called e-SAP (Electronic Solutions against Agricultural Pests) which empowers the extension personnel to diagnose and quantify the problems related to insects, diseases, weeds and nutritional disorders in crops and provide solutions on real time.


Work Experience
Professor, University of Agriculture Sciences (UAS), Raichur – 19.08.2012 till date.
Associate Professor, UAS, Dharwad/Raichur – 19.08.2006 to 19.08.2012
Assistant Professor of Agricultural Entomology, UAS, Dharwad AC, Raichur – 31.07.1998 to 19.08.2006.
Assistant Plant Protection Splt. (Entomology), UAS, Dharwad EEU, Raichur – 19.08.1997 to 31.07.1998.
Education
Ph. D in Agricultural Entomology from  University of Agricultural Sciences Bangalore,  Biocontrol of white grubs and caterpillars using EPN (Specialization) with CGPA 9.41/10.
M.Sc (Agri.)  from  University of Agricultural Sciences Bangalore, Agril. Entomology (Specialization) with CGPA 4.0/4.0
B.Sc (Agri.) from University of Agricultural Sciences Bangalore, with CGPA 3.65/4.0
Fellowship
Recipient of CSIR Senior Research Fellowship for the Ph. D. Programme
Recipient of ICAR Junior research Fellowship for the M.Sc. (Agri.) Programme